Dates
Sep 23, 2022
9:30 - 10:30 AM
Event Image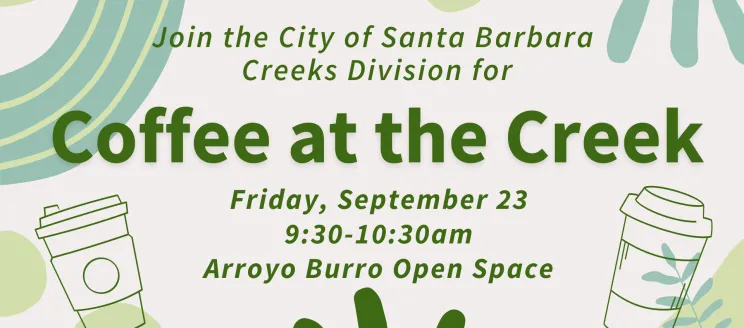 Title
Coffee at the Creek | Arroyo Burro Open Space
Parks & Rec Categories
Category:
Description
Join the City of Santa Barbara Creeks Division for Coffee at the Creek!

Drop by for a cup of coffee and a treat at this informal meetup. Creeks Restoration Planner Erin Markey will be there to chat about the Creeks Division's restoration projects, and what we're doing to help improve and protect local creek and ocean water quality.

Meet at the footbridge at the Arroyo Burro Open Space.
This event is part of our annual Creek Week celebration, taking place Saturday, September 17 through Saturday, September 24. Visit SBCreekWeek.com or Facebook.com/SBCreekWeek to learn more!

Contact Liz Smith at LSmith@SantaBarbaraCA.gov for more information.