Dates
Sep 16, 2023
8:30 AM - 2:00 PM
Location
Location
Montecito Union School
385 San Ysidro Road
Santa Barbara, CA 93108
Event Image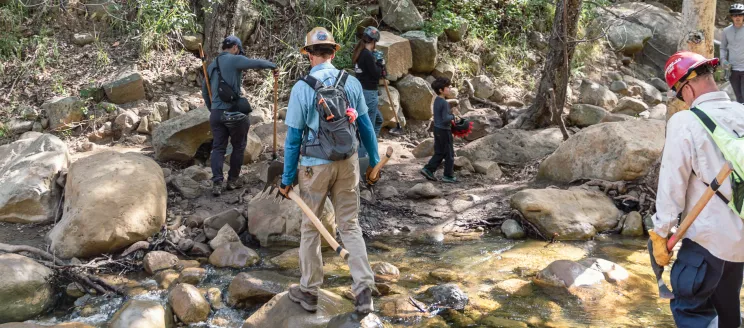 Title
Trail Volunteer Day | Front Country Trails
Parks & Rec Categories
Category:
Description
Join us for another large-scale trail volunteer event. Volunteers of all experience levels are invited to learn about trail restoration while working on some of the community's most-loved trails. Tools, instruction, and lunch will be provided! 
RSVPs are required for this event! To RSVP, contact Steve Biddle, City of Santa Barbara Parks Supervisor, at (805) 564-5439 or SBiddle@SantaBarbaraCA.gov
SCHEDULE AND LOCATION
8:30 a.m. Meet at Montecito Union School (385 San Ysidro Road) for safety orientation and instruction
8:45 a.m. Depart for trail worksites
1:00 p.m. Return to Montecito Union School for a group picnic to celebrate your hard work! 
TRAILS
Hot Springs Trail, Tunnel Trail, and San Ysidro Trail
SAFETY
Volunteers must attend the safety orientation provided at the start of the day to participate in trail work. Tasks will be assigned based on skill level.
WHAT TO WEAR
Sturdy closed-toed shoes, long sleeves, and long pants to protect from poison oak
WHAT TO BRING
Water, sunscreen, snacks, gloves, and bike helmet
PARTNERS
This event is held in partnership with Santa Barbara County, US Forest Service, Montecito Trails Foundation, Los Padres Forest Association, and Sage Trail Alliance.