ID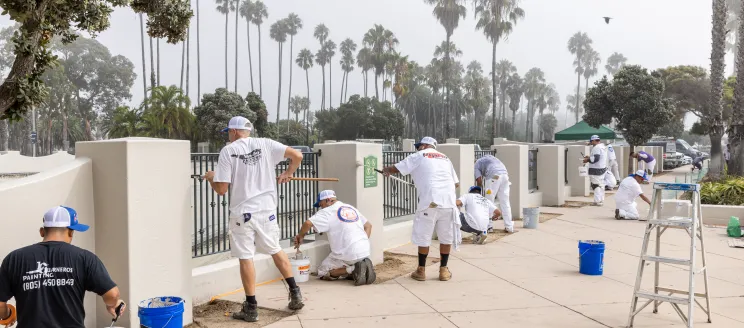 Title
Local Companies Refresh Skater's Point Skatepark
Authored on
August 23, 2023
Body
Skater's Point Skatepark is looking refreshed, thanks to the generosity of local painting companies. On Wednesday, August 23, a group of professional painters from 10 local companies came together to give the walls of the 14,600-square-foot skatepark two fresh coats of paint.
Michael Ruiz, a commercial sales representative at Sherwin-Williams in Santa Barbara, contacted the Parks and Recreation Department earlier this year to see if he could coordinate the painting of the walls at the waterfront skatepark free of charge.
"Sherwin-Williams encourages us to get out and help the community," said Ruiz. "I was walking on the beach with my 3-year-old daughter, and I saw all of these kids enjoying the skatepark. I knew this was the perfect way to get involved."
Ruiz reached out to some of his clients with his idea to refresh the skatepark, and each agreed to send staff to support the project. Parks and Recreation staff prepped the area on Monday, and the painters worked from 9:00 a.m. to noon on Wednesday to complete the work.  
The free, public skatepark is heavily used year-round by skaters of all ages. The walls receive regular touch-ups from Parks Division staff but have not undergone a complete repainting in about five years, when a volunteer day was last organized. Due to limited staff and financial resources, the walls likely would not have received this treatment for a few more years.
"To have someone reach out and say, 'I'll handle everything, the supplies, the staff, the coordination,' that doesn't happen very often," said Jazmin LeBlanc, Assistant Parks and Recreation Director. "This is a huge gift to us and the community."
The Parks and Recreation Department expresses its heartfelt gratitude to Michael Ruiz and Sherwin-Williams for coordinating the event and donating all supplies. The Department would also like to thank the following companies for sending staff to support the effort:
Agave Painting, Fresh Coat Painters of Santa Barbara, J Guarneros Painting, Pacific Painting, Paradise Finishes, Purple Painting, RG Painting and Fine Finishes, S&J Fine Finishes, Van-Go Painting, Van Wyk Painting 
Individuals and groups interested in coordinating their own volunteer projects can reach out to the Parks and Recreation Department at ParksAndRec@SantaBarbaraCA.gov or (805) 564-5418.