ID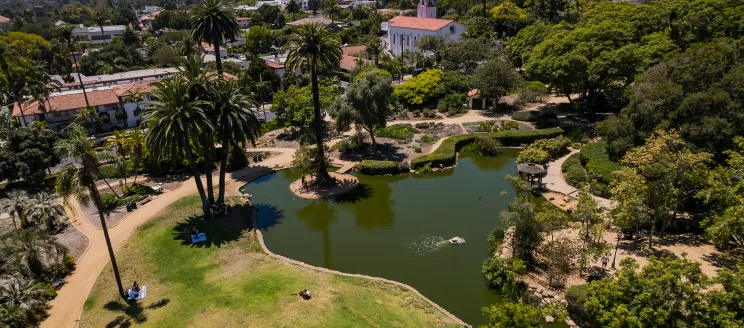 Title
Turf Renovations and Irrigation Upgrades Underway in City Parks
Authored on
February 16, 2023
Body
Santa Barbara Parks and Recreation staff have begun various turf renovation and water-efficient irrigation upgrade projects across the City. The projects are funded by the American Rescue Plan Act (ARPA) which provided state and local governments with funding to invest in programs and services heavily impacted by the pandemic.
Santa Barbara's green spaces saw a surge in visitors and use during the pandemic as most social activities moved outdoors. While many pandemic trends returned to normal, the use of City parks remains at a record high. The renovations and upgrades will support and encourage this increased use and improve the safety, function, and beauty of the City's public green spaces.
The parks selected for the first phase of turf renovations, Alameda Park, Alice Keck Park Memorial Garden, and Chase Palm Park, have been heavily used since the start of the pandemic, have turf currently in poor condition, and receive enough regular funding for irrigation and mowing to ensure renovations can be maintained once they are completed.
Parks with sports fields, including Cabrillo Ball Park, Dwight Murphy Field, MacKenzie Park, Ortega Park, and Pershing Park, already receive multiple turf renovations each year to meet the high demand for field space in Santa Barbara. 
Completion of this project will allow the Department to further improve water efficiency by making critical updates to the current irrigation systems, including relocation of sprinklers to reduce unnecessary overlap, installation of sensors to identify and address potential leaks, and updating systems for a simple override when rain is expected.
Renovation areas will remain closed to the public for several weeks to allow the seed to become established and durable enough to withstand regular use. To ensure green space remains available for public use throughout the process, renovations have been planned with a phased approach with only one section of a park closed at a time.
Visit SantaBarbaraCA.gov/TurfRenovations to learn more.