ID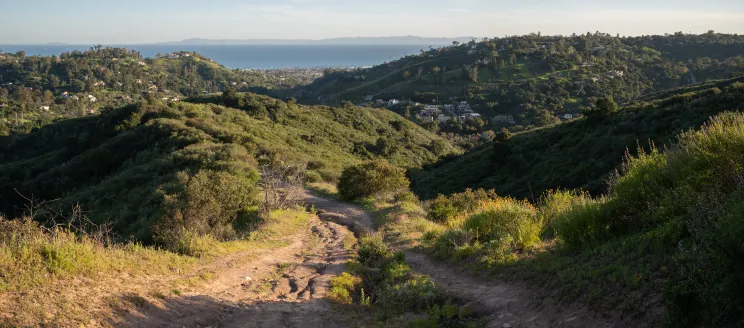 Title
Parma Park Trail Project to Begin This Week
Authored on
April 10, 2023
Body
Work is scheduled to begin this week to improve and expand the trail system within one of Santa Barbara's largest open space parks. The Parma Park Sustainable Trails Project, led by the City of Santa Barbara Parks and Recreation Department, includes improvements to 4.1 miles of existing trails and the creation of 2.7 miles of new trails, including a half-mile reduced-grade loop that will allow users of mobility aids to enjoy the beauty of Parma Park.
The 200-acre property is one of 14 open space parks overseen by the Parks and Recreation Department and saw increased use during the recent closure of the Los Padres National Forest.  It was gifted to the City of Santa Barbara by Harold and John A. Agnes and Mary Margaret Ambrose Parma in 1973 as an open space for hiking and equestrian use. Many of the current trails in the park are old cattle trails and access points for the former Parma Ranch.
"Many of the current trails were never designed to be hiking trails. This project is the first time we've had a chance to do a full assessment of each trail and really evaluate the park's trail system as a whole," said Monique O'Conner, the City's Open Space Planner. "We are giving the community access to new parts of the park and building trails that are safer and more resilient."
While a highlight of the project is creating miles of new trails for the community to enjoy, the project's aim is to create sustainable trails to preserve park's natural areas and ensure they remain accessible for years to come.  Poorly designed trails can cause erosion, damage plant and animal habitats, and negatively impact the overall health of the ecosystem. Planning for the Parma Park Sustainable Trails Project considered key trail design elements such as alignment, grade, drainage, tread width, and surface materials to create trails that are environmentally sustainable, provide a safe and enjoyable experience for users, and reduce the need for major trail repairs.
Work will be completed in phases to ensure the public can continue to enjoy Parma Park while the project is underway.  The first phase will focus on trail work in the western portion of the park. Trails in this portion of the park are expected to remain closed through the spring until work is complete. Phase two will focus on trail work in the eastern part of the park and is scheduled to begin in late fall. Habitat restoration will occur in select locations throughout the park once trail maintenance has been completed.
The project is funded by the Parma Park Trust.
More information about this project can be found at SantaBarbaraCA.gov/ParmaTrails