ID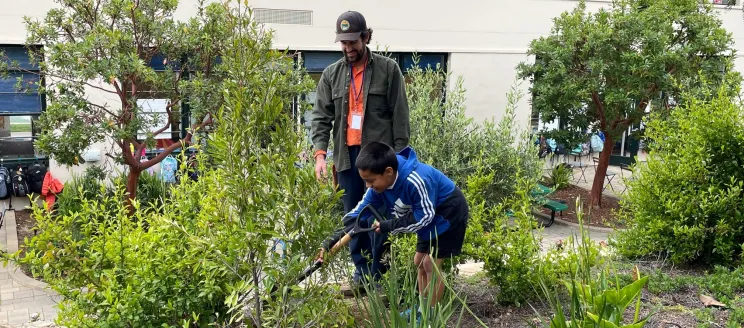 Title
City Forestry Program Celebrates Arbor Day at Local Schools
Authored on
April 27, 2023
Body
In honor of Arbor Day, the City of Santa Barbara's Urban Forestry program held tree-planting events across local school campuses this week. The events aimed to provide interactive learning experiences to educate children about the importance of trees and encourage them to take an active role in caring for the environment.
"Arbor Day is an opportunity to get kids excited about trees and all the important benefits they provide," said Nathan Slack, City of Santa Barbara Urban Forest Superintendent. "By partnering with schools to host tree-planting events, we help connect students with the natural world and inspire the next generation to protect and preserve our vital natural resources."
This year's events were held at Adams Elementary, Cold Spring School, and The Riviera Ridge School. Across the three schools, students from kindergarten through sixth grade had the opportunity to hear from members of the City's Urban Forestry team about the benefits trees provide before helping to plant new trees on campus for current and future students to enjoy.
"Our third-grade students look forward to watering and caring for the trees over the course of their elementary school years, watching them grow and provide shade and beauty at Adams," said Kelly Fresch, Principal of Adams Elementary School.
In addition to the new trees, copies of the book The Boy Who Grew a Forest have been added to each school's library, courtesy of the nonprofit organization Santa Barbara Beautiful, which also covered the cost of the new trees. Tree planting has been a collaborative effort between the City of Santa Barbara and the organization since 1965 and has led to the planting of over 13,000 street trees – trees located in the parkway between the sidewalk and the street curb.
The City's Urban Forestry program celebrates Arbor Day each year with tree-planting events at local schools. Schools interested in hosting an Arbor Day event in 2024 are encouraged to contact Trees@SantaBarbaraCA.gov or (805) 564-5433 to coordinate.