ID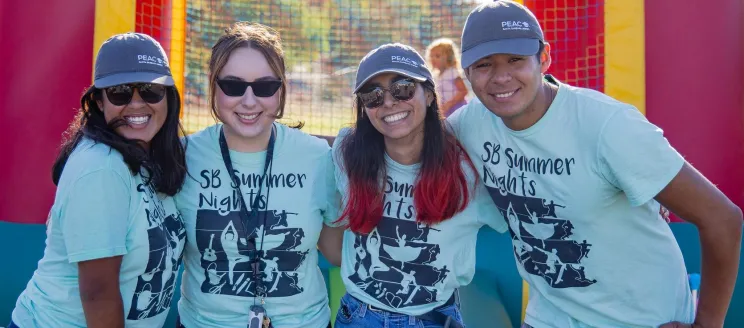 Title
Free Teen Program 'Summer Nights' Returns for Second Year
Body
The program for youth ages 12-17 will run every Friday from 5 p.m. to 8 p.m. starting June 23 through July 28.
The City of Santa Barbara Parks and Recreation Department has announced the return of the Summer Nights teen program, held in collaboration with the Santa Barbara Unified School District (SBUSD) and new this year, the United Boys and Girls Club of Santa Barbara. Building on learnings from the first year of the two-year pilot, the program aims to provide a safe and inclusive space with structured recreational activities for youth ages 12-17 during the summer months.
Funding for the pilot was approved by the City Council in July 2021 in response to a lack of safe and free activities for local teens and to address youth violence. With funding secured, the Parks and Recreation Department and SBUSD partnered to offer an evening youth program, Summer Nights, at La Cumbre Junior High at the end of the academic school year in the summer of 2022.
This year, the Summer Nights program will take place at two Boys and Girls Club locations in an effort to reach the largest number of participants in spaces that many local teens are already familiar with.
"The new partnership with the United Boys and Girls Club of Santa Barbara brings in another leader in the community that is well-positioned to provide programs, services, tools, and guidance to prevent violence among youth while making the program more accessible to families located on the east and west sides of Santa Barbara," said Rich Hanna, Recreation Manager at the City of Santa Barbara.
Summer Nights will run every Friday from 5 p.m. to 8 p.m. starting June 23 through July 28. The program will be held at the Westside Boys and Girls Club (602 W. Anapamu St.) and Bohnett Park from June 23 through July 7 before moving to the Downtown Boys and Girls Club (632 E. Canon Perdido St.) from July 14 through July 28.
Like last year, programming will focus on providing a diverse range of activities and experiences catered to the interests of youth ages 12-17, including artistic, enrichment, and sporting activities. This year's events will also feature food from local restaurants.
The Parks and Recreation Department is seeking additional community partners and businesses that would like to lead teen programming at any or all event dates. Interested groups can contact Nicole Morgan at NMorgan@SantaBarbaraCA.gov  
More details about the Summer Nights program can be found at SantaBarbaraCA.gov/Summer Nights.