ID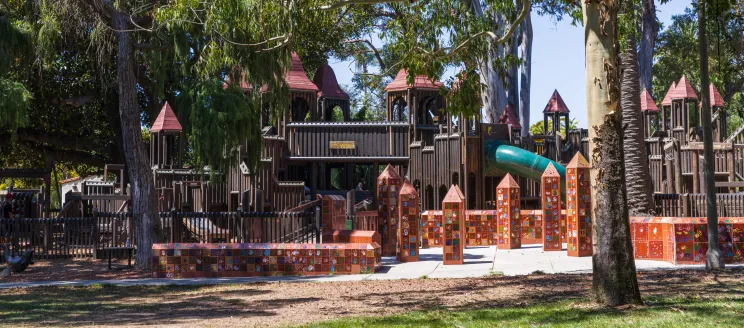 Title
Kids' World Playground to Close for Maintenance
Authored on
August 29, 2023
Body
Kids' World, the 8,000-square-foot wooden playground within Alameda Park, will be closed for regularly scheduled maintenance from Tuesday, September 5, through Thursday, September 14. The unique all-wood structure requires a special maintenance regimen to ensure it can hold up against the elements year after year.
During the closure, City of Santa Barbara Parks and Recreation Department staff will conduct a thorough inspection of the playground and make any necessary repairs before deep cleaning, re-staining, and resealing the structure. The 10-day closure will ensure enough time for the oil-based stain and sealant to cure properly and protect the wood against moisture damage. The late-summer closure has been timed to coordinate with the start of the school year and following the Labor Day holiday to reduce the impact on local families who frequent the playground.
"Kids' World is a popular and well-loved playground," said Ramiro Arroyo, Parks Supervisor, who is overseeing the maintenance project. "It was built by the community and keeping it in good condition is very important to us in Parks and Recreation."
Kids' World, Santa Barbara's largest playground, was initially constructed in 1993 by hundreds of community volunteers under the direction of Leathers and Associates, a company renowned for its imaginative playground structures. Volunteers lent their support to build Kids' World in just one week. Santa Barbara locals and the very children who would be playing in the park were crucial contributors to the playground's design. Tiles painted with the handprints of children who helped plan and build the park can be found surrounding the structure. In 2018, the playground was fully renovated to meet current accessibility and building codes.
Kids' World is expected to reopen on Friday, September 15.