ID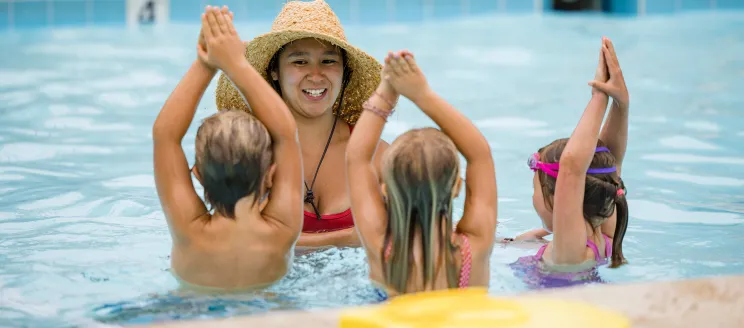 Title
Low-Cost Swim Lessons and Water Safety Programs Offered This Summer
Body
May is National Water Safety Month, an annual observance aimed at preventing drowning incidents and keeping individuals safe in and around water.
According to the Centers for Disease Control and Prevention (CDC), drowning is the leading cause of death for children ages 1 to 4 and the second leading cause of unintentional injury death for children ages 5 to 14 after motor vehicle crashes.
To combat these statistics, the City of Santa Barbara Parks and Recreation Department will provide low-cost water safety programs for youth residents. The programs aim to teach children ages six months to 17 years a range of water safety practices, including basic swimming skills, ocean safety, and how to respond in an emergency.
"We take water safety very seriously and want to ensure kids in our community have the knowledge and skills necessary to stay safe in and around water," said Tony Sholl, Aquatics Supervisor for the City of Santa Barbara. "Knowing how to swim is a critical life skill that everyone should be able to learn, not just those who can afford it."
Swim Lessons
Low-cost group swim lessons will be offered for children six months to 12 years old. Lessons are separated by age and skill level and will be offered at Los Baños del Mar and Ortega Park Pool. Residents can register for a session of eight 30-minute lessons for $50, roughly $6 per lesson. Each participant will also receive a summer swim pass good for one adult and two children to enjoy recreation swim at Los Baños for free.
Swim lesson scholarships, funded by the PARC Foundation, are available for residents who cannot afford the fee. A successful fundraising effort has also made 180 swimsuits available for participants in need to ensure children can safely and comfortably learn to swim in the appropriate gear.
Junior Lifeguards
Children aged 7 to 17 who already know how to swim are encouraged to attend the multi-week Junior Lifeguards program to learn the skills needed to stay safe in the ocean and how to respond to an emergency. Participants are grouped by age for age-appropriate lessons and activities, including fun beach and water games, all led by professional beach lifeguards. Over the course of the program, participants gain skills in ocean safety, hazard identification, first aid, and surf lifesaving. 
"The ocean is a totally different environment than a pool. The water is moving and unpredictable; you don't know what the structure of the sand is like underwater; there could be rip currents," said Santa Barbara Junior Lifeguard Director Zane Booth. "With the beach at our doorstep, it's so important for kids to know how to keep themselves and others safe in the ocean."
Booth is a graduate of the program and a national championship-winning lifeguard. In 2022, he brought home one gold and two bronze medals from the United States Lifesaving Association (USLA) National Lifeguard Championships and finished in sixth place overall.
Residents can register to attend the Junior Lifeguards program Monday through Friday for all eight weeks of summer for $650, approximately $16 per day, or a single 3-week session for $345. Scholarships are available for eligible families to attend the program for free. These scholarships are funded by donations to the PARC Foundation and distributed through SBPAL's Campership Alliance program.
Lifeguard Certification Course
The Parks and Recreation Department will host a second reduced-cost lifeguard training course over Memorial Day weekend to increase the number of community members with critical lifesaving skills. While a typical course costs around $200, residents can participate in the multi-day training for $50. Participants who successfully complete the course will leave with American Red Cross certifications in lifeguarding, CPR, AED, and first aid and be equipped to respond in the event of a water emergency. A third reduced-cost course may be added later this year if community demand for the training remains high.
Registration is now open for all water safety programs and is available on a first-come-first-served basis at SBParksAndRec.org. Families interested in scholarship opportunities must create their online accounts before reaching out to Aquatics@SantaBarbaraCA.gov.
More information about swim lessons can be found at SantaBarbaraCA.gov/SwimLessons.
More about Junior Lifeguards can be found at SantaBarbaraCA.gov/SummerCamp.
Groups and individuals interested in supporting water safety programming scholarships can donate to the PARC Foundation and indicate "Aquatics" as the designation for their donation.